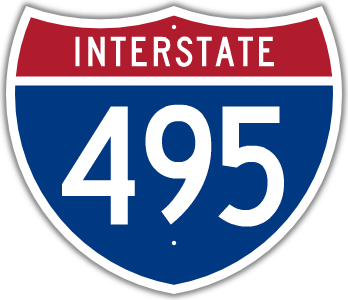 Prince George's
Montgomery
I-495
· Capital Beltway
42.03 mi. in Maryland; from DC-VA Line at Woodrow Wilson Bridge counterclockwise to VA Line at American Legion Bridge.
Marked all cardinal directions, inner and outer loop.
NHS: Entire length. All Interstates are part of the NHS by default.
This is the beltway they mean when the pundits say "inside the beltway" when referring to the goings on in Washington. The I-495 Capital Beltway was opened on August 17, 1964. There was a backup of cars to try out the new highway, and not much has changed in the past 36 years. It's eight lanes throughout the Maryland portion now except between I-270 and I-270 Spur in the northwest.

Part of what became the Capital Beltway was originally called the Rock Creek Parkway, approximately between MD 355 (Wisconsin Ave, then US 240) and MD 97 (Georgia Ave). This section twists and turns about, following the alignment of the old parkway.

By 1977 it became obvious that the District was not going to build its section of I-95, so the east side of the Capital Beltway was designated I-95. Around 1990, it became a dual-signed 95-495. Exits were renumbered based on mileage from 95's entry into Maryland at the Woodrow Wilson Bridge. at Exit 26 was I-95 to Baltimore, so the rest of 495 in Maryland continued counterclockwise to Exit 42 just before entering Virginia. Currently Virginia has renumbered the exits on its side of I-495 to match Maryland.

A new southbound span of the Woodrow Wilson Bridge is slated to open in June 2006; by mid-July, it will temporarily carry both directions of traffic, until the completion of the northbound span expected in 2008.
Related Links: Woodrow Wilson Bridge Project Site
Suffixed Sections of I-495:
I-495X: Cabin John Pkwy 1.50 mi.; from I-495 Exit 40 southeast to Clara Barton Pkwy.

495
42.0
VA Line
41.6
41
Clara Barton
40.2
40
I-495x
39.7
39
MD 190
38.2
38
I-270 spur
36.5
36
MD 187
35.6
35
I-270
0
35.4
34
MD 355
33.6
33
MD 185
31.6
31
MD 97
30.2
30
US 29
29.6
29
MD 193
28.0
28
MD 650
27.7
PG-MO Line
26.1
27
I-95*
27
25.2
25
US 1
23.0
23
MD 201
22.1
22
MD 295
19.6
20
MD 450
18.5
19
US 50
7
16.6
17
MD 202
14.8
15
MD 214
10.8
11
MD 4
9.1
9
Suitland
7.3
7
MD 5
4.3
4
MD 414
2.8
3
MD 210
1.7
2
I-295
0.5
Ctr. of WWB
0.0
I-95*
0.0
VA Line